You have to start somewhere
The worst part about getting your photos and other memories organized is to overcome the psycological barrier of thinking it's such a daunting task that you'll never finish so why start. It is true, it is quite daunting because of all the pictures you have strewed all over but we're here to help.The first thing you'll want to do is to search for your photos and memories and assemble them into one location. Look for this stuff…
Old Photos and Grandma's Albums
You've probably got a box of old photos and albums handed down by grandma.
I know you have printed photos around the house. It hasn't been that long ago that you stopped using film to record your memories and having that film printed. Your photo sharing habits consisted of making duplicate prints. Maybe you still use film and are having a difficult time finding a place to get the film developed and your analog prints made. Well stop looking, you've found the place.
After 44 years in the photo business we know better than anyone how digital photography has changed the way we take and share images today. You're probably taking thousands of images each year now, compared to what you did with film. And sadly, most of those images are never printed and seldom are they backed up or sorted for easy retrieval. We can help you with a system for managing this huge volume of images that sit on your computers and mobile devices.
If you have printed photos you also have the negatives that go with them. If you have an old dad like me or a grandpa you probably also have slides. These original film images from the "old" days are a perfect source for quality scans and to make prints.
Video Tapes and 8mm Movie Film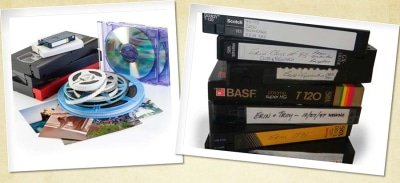 Before the camera phone we captured family memories on video tape. I have what seems like hundreds of VHS, 8mm and MiniDV tapes. I even had a customer come in the other day with BetaMax tapes! Our parents and grandparents made home movies on real film that I'd bet you haven't seen in years, if at all! These media create an exciting addition to your family story, and we have solutions for getting that media into a format you can finally see and share!